GTS has rolled out a new feature on our website: you can now get instant price quotes for SRT files in over 80 languages. The process of getting a price quote for translation of SRT files is fast and easy: click here, upload the SRT files and select the languages. The quote and delivery time are displayed in seconds.
What are SRT files?
SubRip Subtitle files, referred to as SRT files, are text files that contain video subtitles. The format is simple: each caption is timestamped in order to correctly sequence the subtitle on the video, as shown in the following sample. SRT files can be opened and edited using any text editor, such as the Notepad application that comes with Windows.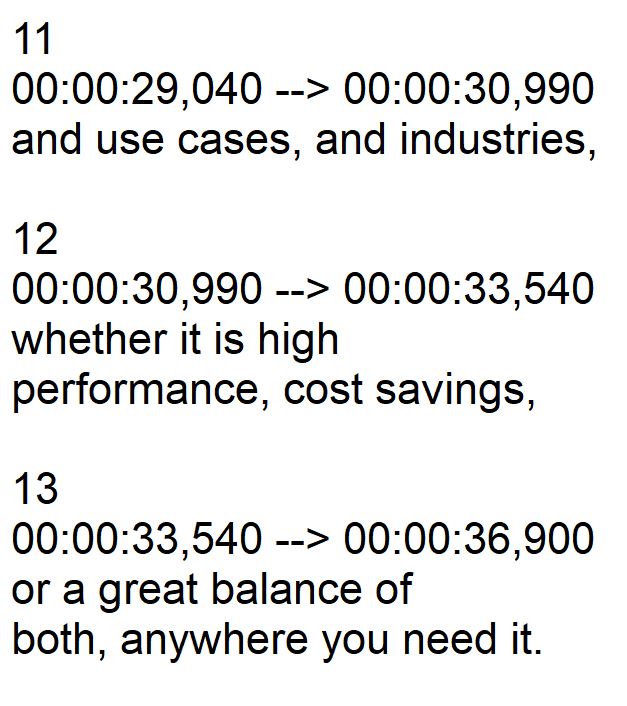 How to produce SRT files?
SRT files can be easily created for any video in one of several ways:
Manually using a text editor
From a video transcription service
From YouTube
If you download SRT files from YouTube, you should note that the subtitles are auto-generated. Therefore, they may not be highly accurate. There is no replacement for a human or human-reviewed transcription process if you want the SRT file to be accurate.
YouTube also allows automatic translation of SRT files using Google Translate. Just note that you are combining two inaccurate processes: both auto-captioning and machine translation are not very reliable. Corporate customers with public-facing videos would be ill-advised to use the fully automated service on YouTube for translation of subtitles.
How do you translate SRT files?
Just like creating SRT files, translating an SRT file is a simple process which can be done using a text editor. However, there are certain perils in using this approach as the translator may accidentally change the format of the timestamps. This will render the SRT file corrupt and unusable.
In a professional process, the translators will open the SRT files with a CAT tool. The CAT tool knows how to parse the SRT file so the timestamps are kept intact.
The challenges of translating SRT files
Due to their nature, SRT files can't be translated efficiently using machine translation (like Google Translate). SRT files usually contain narration in a human voice. The language is not structured and may contain vernacular or casual text. SRT files are best translated by human translators who can watch and listen to the video. This allows the translators to verify the meanings and significance of certain phrases.
Other challenges include text expansion: if the target text is significantly wordier than the source, this may cause problems if the text is too long for the allotted time. Readers may then get a very long string which is displayed on the screen for a short amount of time. This makes for difficult following of the video. Another challenge: subtitle sentences can be split up over a few timestamps. In certain languages, a linear translation may make the subtitles incomprehensible. An experienced subtitles translator will know how to restructure the sequence of words so that the subtitles can be followed in a fluent manner.
I translated the SRT file, now what?
Translated SRT files can be uploaded to YouTube to create accurate subtitles for YouTube videos. All video editing programs support SRT files to produce subtitles in many languages.
What COVID-19 did for demand of subtitles translation
When the pandemic hit, translation companies saw a surge in demand for translation of SRT files. In-person conference and industry events were suspended worldwide. Instead, video conferences were streamed online. This increased the demand for transcription and translation of video subtitles.
Relevant Reading