by David Grunwald
The US has no official language. So even though English is the defacto national language, there is no federal law that mandates English usage in any official way. This may amaze some readers, but hundreds of thousands of US Latino citizens in South Florida speak no or, at the best, halting English. And these citizens work, have families and live long lives in the USA without ever bothering to learn English. And why should they? They seem to be getting along just fine without it.
I want to relate two short incidents that brought this fact into my focus:
I got into a Lyft car yesterday with a young driver named Hector. I am the type of person who likes to chat up taxi drivers both as a way of passing time and in order to get my finger on the pulse of society and gain insights into what makes people tick. I was slightly taken aback when Hector said that he does not speak English. Since it was a long ride, I decided to try and engage Hector in a conversation. (disclaimer: my Spanish is weak so English was the only way to go) Hector was a young man of around 30 and said that he immigrated to the US nine years ago. When I asked him why he never bothered to learn English, he said that he can get along just fine with Spanish in his social and business lives. Additionally, he said that he never found the time to go to English classes.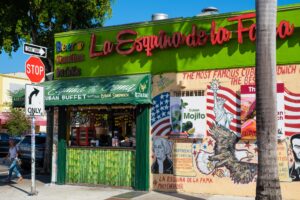 In another event, my mom asked me to help her with the delivery of a new Whirpool refrigerator that she purchased from Best Buy. I met with the team of three installers and to my amazement, not one of them spoke English. Nada, zero. We had to use Google Translate to communicate. This made the process much more challenging and time-consuming. I was tempted to throw out these men and ask Best Buy to send an English-speaking crew (if they even had such people). But I just let it slide and the job was eventually and painfully completed. We needed to recruit the help of one of the condo maintenance crew to interpret since some complicated plumbing work was required.
How many non-English speaking Latinos live in South Florida?
According to the US Census Bureau, in 2019 the share of the U.S. population 5 years old and over speaking a language other than English at home grew from 20 percent to 22 percent. The share of the U.S. population who spoke English less than "very well" stood at 8 percent. The number of people who speak Spanish at home in South Florida (Miami-Fort Lauderdale-Pompano Beach) stands at around 2.5 million. Put this all together and it is easy to see that over 200,000 people in South Florida speak little or no English.
Is this a bad thing?
Well, it is definitely not a good thing! First of all, US citizens that live or visit South Florida are faced with a language barrier that prevents proper communication. Feeling like a tourist in your own country is disheartening to say the least. Furthermore, the non-English speaking community can't integrate into mainstream society, which prohibits economic growth to some degree. Spanish barrios exist in which crime is known to be rampant. From a socio-economic standpoint, the situation is not ideal.
For advertising agencies and for translation companies like GTS, this situation creates business opportunities. With a population of millions in the US who speak little or no English, much content needs to be translated into Spanish and other languages that are widely spoken in the US. This includes website content, commercials and advertisements, translation of informed consent and medical documents, government documents and much more.
What can be done?
Nothing can really be done. Since partisan division has prevented the federal government from bringing an official language act into law, nobody can be forced to speak English. In fact, citizens can communicate with federal agencies in non-English languages and these agencies needs to accommodate a diverse range of language requirements. And since people seem to be getting along fine in their lives without speaking English, why should they take the effort to learn a new language? Obviously, people that want to get ahead in their professional and business careers would profit greatly from learning English, but that is a personal choice.
According to B2B review company Clutch, GTS is rated as one of the top translation companies in Florida.