by David Grunwald
I am writing this post as I am visiting Las Vegas, AKA sin city, on vacation. This is not my first time in the city and it seems to grow bigger with each visit. According to the U.S. Census Bureau's website, over 650,000 people live in Las Vegas, making it one of the top 25 most populated cities in the USA. But as anyone who has been here knows, there are many thousands of tourists that are visiting every day. According to the Nevada state website, over 40 million people are on track to visit Vegas in 2023. Vegas is a very busy and bustling city indeed.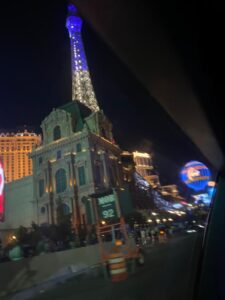 The translation industry has a strong presence in Las Vegas, with several dozen translation companies. Some of the large LSPs have a presence here as well with local offices in Vegas. One example is Transperfect, the world's largest LSP, which has a branch in Las Vegas.
GTS provides translation services to businesses in Las Vegas. Click here to get started on your order.
Many types of businesses in Las Vegas require need translation services. Here are a few examples:
Tourism Industry: Las Vegas is a popular tourist destination that attracts visitors from all around the world. Hotels, casinos, and entertainment venues need translation services to communicate effectively with their non-English speaking guests.
Construction Industry. Las Vegas is one of the fastest developing cities in the USA. New hotels are constantly being built, and old ones are demolished and rebuilt. Translation services for the construction industry are essential for the many projects going one.
Legal Entities: Law firms, hotels, management firms, construction companies all require legal translation services for business, litigation and other purposes. There are several courts in Las Vegas at the Federal, State and municipal levels. Translation services are required for courtroom documents, interpretation and more.
Healthcare Providers: Hospitals, clinics, and other facilities need healthcare translation services to communicate with patients who do not speak English, ensuring they understand their diagnosis, treatment options, and medical instructions.
Businesses and Corporations: Companies in Las Vegas that conduct international business or have a diverse workforce may need translation services for contracts, meetings, internal documents, translation of employee handbooks, and more.
Real Estate Industry: Las Vegas' booming real estate market may attract international buyers. Realtors, developers, and property management companies require real estate translation services to assist with transactions and communication.
Government Agencies: Local, state, and federal agencies may need translation services to make sure their services are accessible to all residents, regardless of their primary language.
Non-Profit Organizations: Nonprofits serving diverse communities often require translation services to ensure their services and information are accessible to everyone.
Event and Conference Organizers: Las Vegas is a major hub for conferences and events. Organizers need translation services to cater to international attendees.
Immigration Services: Entities providing immigration services may need translation to help clients with paperwork, legal documentation, and understanding the immigration process.
Wedding Chapels and Services: Las Vegas has earned a reputation as both a destination for quick weddings and, to a lesser extent, swift divorce. Certain documents may need to be translated for these events.
Which Types of Documents and Materials Need to be Translated?
Companies and individuals in Las Vegas will need to translate the following:
Legal materials: Contracts and agreements, court documents and evidence, depositions, transcription and translation of audio files.
Financial documents: Business plans, annual reports, bank statements, investment documents.
Travel and Tourism: movie and TV show scripts, subtitles and captions, hotel and casino websites, e-commerce platforms, brochures, ads and rollups, exhibition guides, newspapers, travel guides.
Medical documents: informed consent, hospital and doctor reports.
Visa and immigration documents: certificates (birth, marriage, death).
Marriage and Divorce documents: marriage certificates and licenses, translation of divorce decrees, passports and resident permits, prenuptial and postnuptial agreements, affidavits and declarations, property documents, custody agreements.
Count on GTS when you need a professional translation service in Las Vegas or if you are doing business with companies in Las Vegas.