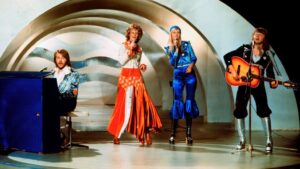 The annual Eurovision song contest started in 1958 as a showcase for musical talent in European countries. The winner is decided by a jury system, where each participating country gets a vote. This system has always been a cause of distrust, as some years have seen a politicization of the vote.
In this year's Eurovision music contest, Ukraine's Kalush Orchestra won with their rendition of Stefania: a Ukrainian rap song. Was this win well-deserved because it was the best song? Or was the victory a sympathy vote?
The world's most absurd, pointless, politically-motivated 'contest' excels itself. Ukraine could have sent one of its heroic bomb-sniffing dogs to bark the national anthem and still won. Happy for them, but please let's stop calling #Eurovision a contest… it's a rigged farce. https://t.co/spefapUQBt

— Piers Morgan (@piersmorgan) May 15, 2022
Many people, like the blunt and outspoken journalist Piers Morgan, feel that the contest was rigged. Winning the Eurovision also means that the winning country gets to host the following year's contest. Which means that the Eurovision 2023 contest will be held in Ukraine (assuming the bombs will stop raining down on the besieged country).
What do you think? Was the Ukrainian song the best one or did the countries give Ukraine a landslide victory out of sympathy. Please leave your comments in this post if you have an opinion. Truthfully, the song is quite good. But music is best when it is not mixed with politics.
Here are the lyrics of Stefania translated into English.
Mother Stephania Stephania mother
The field is blooming, but her hair is getting gray
Mother, sing me the lullaby
I want to hear your dear word
She was rocking me as a baby, she gave me a rhythm,
And you can't take willpower from me, as I got it from her
I think she knew more than King Solomon.
I'll always find my way home, even if all roads are destroyed
She wouldn't wake me up even if there was a storm outside
Or if there was a storm between her and grandma,
She trusted me over everyone else
Even when she was tired, she just kept rocking me
Lully-lully-lullaby
Mother Stephania Stephania mother
The field is blooming, but her hair is getting gray
Mother, sing me the lullaby
I want to hear your dear word
I'm not a kid anymore,
but she will always treat me like one
I'm not a kid anymore, but she keeps worrying about me,
anytime I'm out
Mother, you are still young.
If I don't appreciate your kindness, I'm moving towards a dead-end
But my love for you has no end.
Lully-lully-lullaby
Mother Stephania Stephania mother
The field is blooming, but her hair is getting gray
Mother, sing me the lullaby
I want to hear your dear word
Mother Stephania Stephania mother
The field is blooming, but her hair is getting gray
Mother, sing me the lullaby
I want to hear your dear word