by Jason Park
Online retail sales in South Korea have hit an all-time high, and are expected to continue growing over the next few years. If you want to get into this market, you may be wondering how to start an online business in South Korea.
Starting an online business in South Korea is a great idea because this nation has such a sophisticated economy. There are several things you will need to do to prepare for launching an online business in South Korea. This includes website design, learning about e-commerce platforms, and using secure payment systems.
Do you want to start an online business in South Korea? You've come to the right page. Today, we're going to discuss everything you should know before you start. Keep reading to learn more.
Can I Start an Online Business in South Korea?
If you're looking to sell in the South Korean marketplace, starting an online business is one of the easiest ways to do so. The good news is, that it doesn't matter if you don't reside in South Korea. Even foreigners can own an online business in South Korea.
One thing to be aware of before you start planning out your online business strategy is that you will need a visa to have an online business in South Korea. There are currently four different types of visas that you can apply for:
You will need to have one of these before you register your business in South Korea.
Prepare To Start an Online Business in South Korea
One of the first steps to officially starting an online business in South Korea is to register your business. However, there are a few things that you will need to take care of before you start. The most important thing is "what is your business?" What product or service are you going to be selling in South Korea?
On top of that, you will also need to come up with a unique business name. Once you have this information figured out, you will need to visit a local tax office to inquire about business registration. This is where you will be able to get a business registration certificate. Make sure you bring all the information you need to provide, including your passport and necessary visa.
If you are selling a product online, then you will need to use an e-commerce platform (which we will go further into detail about further down on this page). In order to sell products in South Korea using e-commerce, you will need a mail-order business certificate. This can be obtained from your local metropolitan office.
The mail-order business certificate is used as a license that allows you to sell. You will also need to have it to open a bank account under your company's name.
Get To Know Your Market
If you want your business to succeed, you need to get to know the market you're launching in. There are two things you will need to pay attention to.
Your customers
Your competition
Once you know more about your target customers and your business competition, you will have a better idea of how to give people what they want.
Study Your Target Customers
There is no such thing as a product for everyone. If you really want to grab the attention of your target customers it's important to know who they are and what they want. Take some time to figure out what group of people are your potential buyers and then zone in on how your business will cater to their preferences, needs, or issues.
One of the questions you need to ask yourself is why your customers need your product. How can what you're selling solve their problem or improve their lifestyle? Once you have answered these questions about your online business, you will be able to start providing solutions that will satisfy your target customers.
Study Your Competition
Knowing your competition is just as important for success as knowing your customers. There's a very simple reason why. Once you know what your competition is doing, you can find a better way to make your business stand out. Of course, this will take some work.
The first thing you will need to do is figure out what other online companies are selling similar products or services to the South Korean market. Depending on what you sell, there may even be individuals that are in the same niche. It's a good idea to make a list of who your top competitors are.
Now, once you know who you'll be competing against, it's time to study what they are doing. Set aside time where you can thoroughly examine each company's or person's website or e-commerce store. Take a look at what they are doing right and what you would prefer to see if you were a customer. Pinpointing the competition's strengths and weaknesses is important to help you stand out.
How Are You Selling in South Korea?
If you're planning on selling online to people in South Korea, you have two different options to choose from:
E-commerce marketplace
Website
E-commerce allows transactions for goods and services to be done electronically using the internet. Whether you're buying an item online through a marketplace or the company's website, e-commerce plays an important role. As a new business owner, you will need to decide how you want to sell your products or services.
Let's take a look at what every new business owner entering the South Korean marketplace should know.
E-Commerce Marketplaces
You don't have to have business or sales experience to be an online business in South Korea (or any other country for that matter). If you're brand new to selling online, an e-commerce marketplace is a perfect place to begin. Selling through an e-commerce marketplace is really easy.
There are various e-commerce marketplaces (which we will discuss in a moment) to choose from. Once you decide which one you want to use for selling, you will need to sign up for an account and provide some information to have your account verified.  Most e-commerce platforms require you to provide:
ID
Address
Banking information
VAT registration number
Once your information is verified, your e-commerce marketplace account will be ready to use. This allows you to start selling immediately without having to worry about website design or anything tech-related.
Online Business Website
While using an e-commerce service is excellent for beginners, some online business owners want to build their brand. If you want a website for your business, then you may want to choose this option. Keep in mind, if you do choose this route, you will need to manage more aspects of the technical side and you will need to manage the marketing and promotion of your website.
Similar to selling from an e-commerce marketplace, there are several e-commerce platforms for online web stores that are great to use for selling in South Korea.
Best E-Commerce Platforms for Online Businesses in South Korea
Online shopping is very common in South Korea. If you're interested in selling in South Korea, these are some of the best e-commerce platforms to use.
Coupang is the biggest online marketplace in South Korea. This is a great platform for sellers to use because shoppers all over South Korea and other parts of Asia have this app on their phones looking for the next great deal.
Gmarket is used by a lot of shoppers and sellers in South Korea. People can use this marketplace to sell everything from food products to the latest fashion. If you're going to launch an online business in South Korea, your customer base is probably already on this app.
Shopify is an e-commerce app that originated in Canada. It has become one of the most popular e-commerce platforms in North America and it offers services to other places around the world, including South Korea.
11st  is another reliable selling platform in South Korea. Even Amazon uses 11st to sell products to people in South Korea.

Receive Digital Payments from Customers in South Korea
Now that you have an idea of the different paths you can take for starting an online business in South Korea, you may be wondering about receiving payments. There are many different payment systems that you can use for e-commerce. PayPal is one of the most popular systems used around the world. If you're offering a service, like freelance writing or website design, it may be easiest to use PayPal.
However, there are many other great digital payment systems for online businesses in South Korea. Another popular one is Kakao Pay, which allows the customer to generate a custom QR code. They can then use this code to make an online payment. Some other payment systems that are used for e-commerce in South Korea are:
Payco
Toss Payments
NaverPay
2checkout
KSNET
KCP
Inicis
Nice Pay
AsiaBill
Where Will South Korean Customers Find Your Online Business?
Once you launch your online business, you will need to tap into how your customers will find you. One of the great things about starting an online business in South Korea is that almost everyone in the nation is connected to the internet. A great way to get on your customer base's radar is through search engines.
This is because your web store or e-commerce will come up in the results when they search keywords that apply to your business. To ensure you're reaching as many potential customers as possible in South Korea, you should know what the most popular search engines are and how to use them effectively.
Top Search Engines in South Korea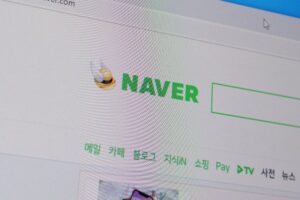 Ideally, you should concentrate on all three search engines for success. Google is the most widely used search engine, so it's important to optimize your web store content to be found on this search engine. While Google is the most popular search engine, it has a lower share of the search market for businesses selling in South Korea.
Don't overlook Naver when launching an online business in South Korea because 1 in 5 searches take place on this search engine. Many people use this search engine because the layout is different than Google and it is always specific to what has been searched for. Businesses prefer it because it has a search advertising platform called Naver Ad.
While Google and Naver will take up the majority of searches in South Korea, Bing shouldn't be ignored either. Two percent of the nation uses Bing. Even though this may seem like a very small amount, taking advantage of it could benefit your business.
Reach More South Korean Customers with Digital Marketing Strategies
Tapping into the search engines is only part of reaching more customers in South Korea. If you want to improve traffic and attract more paying customers to your online business, you will need to consider your digital marketing strategy. If you're brand new to managing a business, you may find it easier to hire a marketing team to manage your digital marketing strategy.
However, this is also something that online business owners can do on their own. There are many things that an online business owner should consider when approaching digital marketing. Some different ways to do this are through:
Social media platforms, like Instagram, Twitter, TikTok, and Facebook. Make regular posts so people take an interest in your business account. Keeping up with social media engagement keeps your online business on people's minds.
Website content is important too. When the content on your website has been optimized and the right keywords are placed, it can attract more people to your page.
Blog posts are an excellent way to drive more traffic to your online business page. What are some questions or problems your customers may have that are also related to what you sell? Exploring the answers to this question can help you brainstorm many blog topics.
Post images and videos of what your online business sells. This will help your business stand out.
Are you brand new to the field? Search hashtags on Instagram and Twitter that are related to what you offer. Reach out to some of the users who fit your target customer base. Offer them a product in exchange for a review and/ or testimonial. This will look really good on your page for when new customers discover you and help you appear legitimate.
Develop A Business Strategy for Success
We've shared some of the most important information with you when it comes to starting an online business in South Korea. Before you start, you should always have a business strategy in place. Every good business strategy starts with a vision. You should map out where you see your online business going and what your core values will be.
One of the most important parts of a business strategy is an objective, along with a plan in place of how you will achieve this objective. After determining your objective, you will then need to do a full analysis of your business. This should be done by determining your strengths, weaknesses, opportunities, and threats.
Once you have figured that out, you can start working on a strategy for gaining a competitive advantage. This is best done when you break the strategy down into a series of goals and how you will achieve them.
Final Thoughts
Do you want to start an online business in South Korea? This is a great nation to sell to because almost everyone is connected to the Internet and the country has a very sophisticated economy.
The best way to run an online business in South Korea is to use an e-commerce platform. This can be done on either an e-commerce marketplace or by managing your own web store.
To ensure you have success with your online business in South Korea, make sure you focus on digital marketing and search engines. GTS can help you with the Korean translation services you need to launch your business in South Korea.