by John Wright
In 2022, 63.1% of online content is written in English. Considering that only around 25% of internet users speak English as their native language, it's clear that there must be many languages in which there is an under-supply of online content.
This fact presents a huge opportunity for affiliate marketers, particularly smaller-scale affiliates who may have been edged out of many of the most lucrative keywords by big media companies entering the affiliate landscape in the last few years.
Publishing content in languages other than English allows affiliate marketers to compete for keywords that, in English, would have far too high competition to consider going after. This means that if affiliate marketers are smart in their targeting of non-English speaking countries where internet users have relatively high disposable income, they could become one of few competitors in a large and growing market.
Here we will look at some of the reasons why it can be a smart decision for affiliate marketers to try and expand into non-English speaking markets.
Keyword competition is lower
We have already touched upon how targeting non-English keywords could see affiliates having to battle against fewer high authority websites in the SERPs (search engine results page). However, it's only when we actually look at the data behind this that we see the extent to which competition is reduced for English vs non-English keywords.
First let's look at a side by side comparison of the affiliate keyword: "best whey protein" and its Portuguese equivalent: "melhor whey protein". These are both affiliate keywords as the websites ranking at the top of Google for these searches are roundup reviews of protein powders created by third party reviewers.
Below is the screenshot of the keyword data for "best whey protein" in Ahrefs: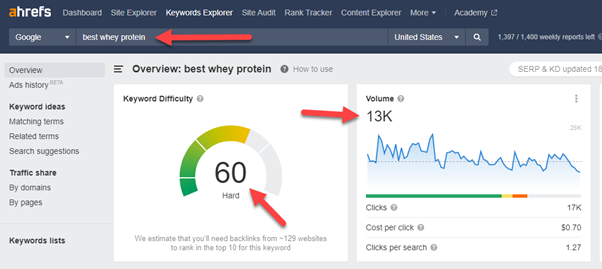 Here is the screenshot of "melhor whey protein"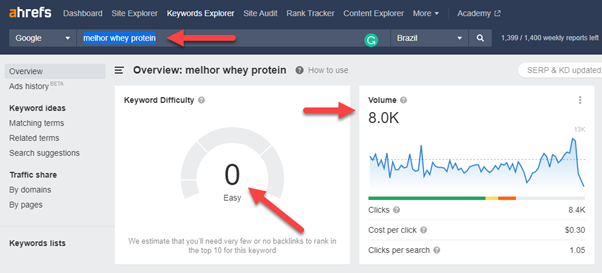 Although the English keyword does have higher search volume (13,000 per month compared to 8,000 per month), the far reduced competition of the Portuguese keyword, combined with the fact that it still has a large search volume, means that it would be a far better keyword to go after as an affiliate marketer without infinite resources.
Looking at some more comparisons between English and Portuguese affiliate keywords we can see similar patterns.
"Melhor cartão de crédito" (volume: 12,000, keyword difficulty: 26) vs "best credit card" (volume: 28,000, keyword difficulty: 74)
"Melhor banco digital" (volume: 11,000, keyword difficulty: 11) vs "best online bank" (volume: 11,000, keyword difficulty: 72)
"Melhor smartphone" (volume: 4,000, keyword difficulty: 6) vs "best smartphone" (volume: 4,200, keyword difficulty: 83).
As we can see, even with similar search volumes, keyword difficulty can be significantly higher for Non-English vs English keywords. This means your affiliate site can rank for these non-English keywords faster and with less investment than for their English language equivalents.
Content quality tends to be lower in Non-English speaking markets
The quality of content, in particular for commercial content, tends to be lower on the non-English web than on the English web. This is not because non-English writers are of poorer quality, but rather because the largest market online in terms of spending power is the US and therefore publishers are willing to pump more resources into creating the best quality content possible to serve this (English speaking) market.
The slightly lower quality of content in languages other than English on the internet means that affiliate marketers can both create rank-worthy articles on a more modest content budget than they would if they were creating content in English.
It also means that if they create as high-quality content as they possibly can then they can put real daylight between themselves and other articles competing for their target keyword. This will ensure that an affiliate website will make money for years to come.
Building links is cheaper in languages other than English
Reduced keyword competition in non-English markets means that affiliate marketers will have to build fewer links in order to rank for the top commercial keywords in their industry.
However the link building benefits for marketers venturing into non-English speaking markets do not just end there. Links can actually be cheaper and easier to build if you are doing outreach to websites that publish content in languages other than English.
The reason for this is simple: people perform less outreach in languages other than English. Since the effectiveness of link building is down to the demand for content among websites vs the supply of content available, marketers operating in a language other than English can benefit from the supply of content from outreachers being lower than in English.
Of course, demand for content is also lower, however in the more popular non-English languages on the internet (think: Chinese, Russian, Portuguese, Spanish, French, and German) the supply and demand ratio for content should be in your favor when you build links for your affiliate site.
Getting the infrastructure in place to build non-English affiliate sites will give you a significant first mover advantage
To build an affiliate website in a language that you do not understand does take a more complicated infrastructure than creating one in your native language. You will need a translation service, an editor who is fluent in the language that you are publishing in, as well as keyword researchers who have at least some understanding of your publishing language.
Although this may take some initial investment and trial and error, building this team puts you in a very strong position going forward. Many non-English online markets are going to become more lucrative in the next couple of decades and having experience of creating this infrastructure now can see you dominate growing non-English affiliate markets in the future.
In summary
Affiliate marketers who take the plunge into non-English markets can benefit from reduced keyword competition, more affordable link building and a lower quality content landscape.
The more lucrative non-English markets are, however, rapidly developing, meaning that the window for affiliate marketers to take advantage of these benefits will not last forever.
About the Author
This article was written by John Wright. CEO of affiliate marketing software StatsDrone.