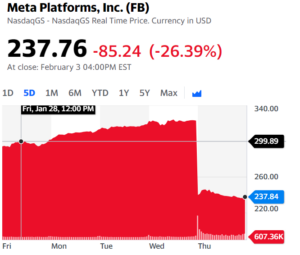 In the largest one day valuation drop in the history of the stock market, shares of Facebook parent company META (stock symbol: FB) plunged yesterday over 26%. The tech-heavy NASDAQ stock index also suffered one of its most precipitous drops in years. Facebook founder Mark Zuckerberg reported that earnings missed the forecast and revealed other information that spells trouble for the social media giant. Membership, ad revenues and profits are all down as Facebook faces increasing competition from other media companies like Tik Tok.
One of the biggest reasons for Facebook's downturn is a new software change which was released in Apple iPhones. Companies like Facebook served ads to users based on tracking data. Apple's new software now allows users to disable tracking and the vast majority have indeed opted to disable tracking. Zuckerberg estimates that this software change will result in $10 billion in lost revenues per year for Facebook.
But Facebook is just one of many stocks which has seen tumultuous times. Omicron, job numbers, travel restrictions, supply chain interruptions and other COVID era issues have taken their weight on many businesses worldwide.
So what does this mean to the translation industry?
The translation industry has been on a tear in the last few years. The industry is considered to be one of the fastest growing business sectors. It is this explosive growth that has brought the leading localization companies (Transperfect, Lionbridge and RWS) to annual revenues each of close to $1 Billion.  One of the reasons for this growth is the boom in social media use which has led to a content explosion.
As part of this trend, investment in Metaverse technology is exploding. All of the giant tech companies including Meta, Google, Microsoft and Apple are betting on virtual reality as the future. Gaming companies like Roblox and Epic Games have gone public with multiple billion dollar valuations overnight. As Metaverse companies and related technology grow, they look to expand to new markets by localizing into new languages.
Social Media companies have also driven major investments into machine translation technology. What was once the butt of jokes is now a major growth sector in the localization industry as many social media companies are looking for an inexpensive way to translate their content.
Who will be affected?
A slowdown in revenues and valuations at the giant tech companies will have an effect on the large Language Service Providers. Lionbridge is thought to have the biggest exposure as they have been the largest localization vendor at Facebook for years. The other large LSPs are all exposed to social media and Metaverse accounts at some level. The math is simple: if the membership and ads revenue at Facebook and other social media companies drop, they will scale down their orders for translation and localization services. Metaverse gaming companies enjoy high valuations because the market sees them as being the future of the Internet. But will these companies be able to replace the lost LSP revenues? Certainly not overnight. And the majority of the Metaverse gamers are kids and teens who have no buying power.  An implosion of the tech giant stock market valuations is also likely to have an effect on MT software companies and related startup companies. This will have a trickle down affect on the entire industry as demand may shrink across the board.
Summary
As a service industry, the translation industry is reliant on the budgets of the companies who purchase translation services. LSP account managers are sure to be losing sleep over what may result in lost revenues.