Choosing a Language Service Provider (LSP) can be a daunting task. There are so many of them. According to some estimates, there are over 18,000 translation companies worldwide. Search Google for "translation company" (exact match) and you will get 1.3 Million results. Are all of the translation companies suitable for your project? Does every company provide excellent translation quality? Probably not. So how should you choose one?
One way to filter the results is to find translation companies near you. But in today's online world, the geographical location of the translation agency may not be of critical importance. Another way to filter the results is by industry specialty. For example, if you are working for a law firm and need a legal translation, you can search for companies that specialize in legal. Another great way to find a suitable translation company is by referral. So if a colleague recommends a certain company, it may be a good idea to seek them out.
Another way to find a reliable translation partner is to check their Quality Management System (QMS). A good translation company will have a comprehensive QMS which defines how the company maintains quality and consistency in their workflow. Some of the more quality-conscious companies will have their QMS certified to a well-known quality standard and audited by an external certification body.
What is a translation company quality audit?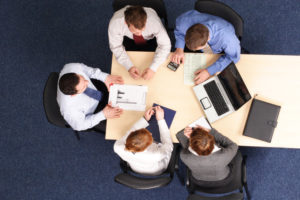 The external certification body sends one or more representatives to review the translation company operations and QMS. The audit is usually conducted once a year and can take anywhere from a day to a week. The auditors will interview translation company personnel and ask to check specific projects in order to verify that the QMS is followed in accordance with the quality standard they are certified for. At the conclusion of the audit, an Audit Summary Report is submitted to the translation company Quality Manager and CEO. In the event of non-conformities, a Nonconformity report (NRP) is submitted as well. The quality certificate is only renewed after the non-conformities have been corrected.
The certification body auditors go by the book and it is their job to iron out any bugs found in the QMS or in the company workflow/operations. Translation companies pay the certification body a substantial fee, which is part of the company's investment in their quality system. Any translation company that dedicates the time, effort and expense to maintain a high quality operation can usually be trusted with your translation projects.
Which quality standards are relevant to LSPs?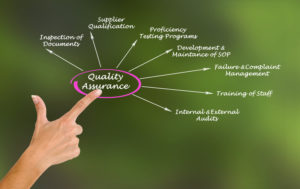 There are many different kinds of quality standards, most of which are not relevant to LSPs. Furthermore, there are many standards organizations around the world. In this blog post, we will only list the quality standards which are published by the International Organization for Standardization (ISO). ISO is supported by many countries and their standards have gained industry-wide acceptance.
ISO 9001 is not an industry-specific standard, yet many translation companies have it anyway. ISO 9001 defines the objectives of the QMS and its policies, requirements related with documentation control, purchasing, working with subcontractors, human resources, internal quality audits, handling non-conformities and other internal operations. Choosing an ISO 9001 certified company means that that company is dedicated to its quality system and takes quality seriously.
This standard is specific to translation and localization providers. It mandates the 'four eyes' requirement, which means that every translation that is done under the ISO 17100 standard must be translated and reviewed by two separate linguists. It also defines minimum requirements for human resources management (hiring of translators and reviewers), measuring translation quality and customer satisfaction, accounting practices, measuring customer satisfaction and handling customer complaints.
This is a relatively new, translation-industry specific standard. It is new because it deals with a fairly new workflow which is becoming very popular: Post-Editing Machine Translation (PEMT). The standard provides requirements for the process of full, human post-editing of machine translation output and post-editors competences. Up until a few years ago, use of MT by a professional translation company was looked upon with disdain. However, the economic realities coupled with a dramatic improvement of AI-based MT systems have brought PEMT into the mainstream. The ISO 18587 standard is certain to make PEMT even more acceptable and mainstream.
ISO 13485:2016 specifies requirements for a quality management system where an organization needs to demonstrate its ability to provide medical devices and related services that consistently meet customer and applicable regulatory requirements.
This standard is specific to the medical device industry. Translation services are a vital part of medical device manufacturing, with the requirements by many countries to provide localized user interfaces, labelling, information for use and other documentation. Therefore, some translation companies have elected to get certified for this standard. Having said that, there are very few translation companies that have this certification.
In Summary
When shopping for translation and localization services, ask the company if their QMS is certified to any specific standard and if so, which ones. This can help you make the right buying decision.
GTS Translation's QMS is certified as compliant with the ISO 17100:2015 standard.