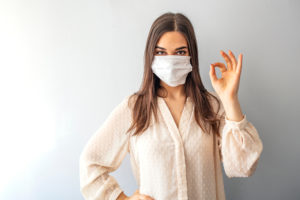 COVID-19, or coronavirus, is a thing of the past. Or is it? While the numbers of new cases and deaths is thankfully declining, the threat of the deadly virus seems to be lingering in many parts of the world. And even in those parts of the world where COVID-19 is declining, face mask mandates are prevalent and will probably be here in months or even years to come.
In the course of the corona pandemic, wearing a mask is now a matter of course. We have gotten used to speaking louder and clearer in order to understand each other despite the mask. Most of us can cope with the reduced face and facial expressions that we see from our counterpart.
Protective masks prevent communication
However, the mask makes cooperation difficult where interpersonal communication is based on the speaker's face being visible, for example when:
Looking after small children in day nurseries, day care centers and elementary schools
Teaching languages ​​in schools, training and studies
Speaking, showing and understanding sign language.
In these situations, the face mask severely restricts communication. It makes everyday life difficult for hard of hearing and deaf people in particular. Sign language interpreters also consider the mask an obstacle in their work. According to Leslee Scott, Manager, Community Services at Island Deaf and Hard of Hearing Centre "the use of masks has cut off our ability to lipread, and pick up visual cues based on people's facial expressions and without that our ability to understand and communicate is hindered."
The industry is looking for the ideal transparent mask, says Stefanie Straub from Germany's Rhineland-Palatinate Professional Association of Sign Language Interpreters. Currently available models would help, even if they can get partially fogged up, become scratched easily and still would not have the FFP2 protection standard.
For safety reasons, there are currently many assignments with sign language interpreters online, where the protective mask can be dispensed with, so that understanding does not fall by the wayside.
Pandemic brings new words that need need new signs
The corona pandemic is also expanding our vocabulary to include new terms that must also find their way into sign language. As the German weekly newspaper Zeit reports in its online edition , such terms cannot yet be expressed in sign language.
In the Zeit article, Wibke Kellermann from the German Professional Association of Sign Language Interpreters states that sign language interpreters, like journalists, often learn new terms from press conferences or news. When introducing the terms, the terms would usually first be spelled with the finger alphabet and then signed. Thanks to sign language interpreting, the new signs could be adopted directly.
Basically, signs for new terms arise in the deaf community and in the community of sign language users. There are also various working groups made up of deaf and hearing linguists as well as educators, lecturers and sign language interpreters who would deal with these new words. This means that the sign language interpreters may not be the ones who invent signs for it.
Sign language interpreters FAQ
What are sign language and finger alphabet?
Sign language is a visual-manual language that is communicated with hand signals, facial expressions and posture. It has its own grammar that follows different rules than those of spoken language. When proper names, foreign words and unfamiliar terms are to be communicated, sign language users usually use a finger alphabet to spell these spoken words.
Where do sign language interpreters work?
Sign language interpreters work wherever spoken language for deaf people has to be translated into sign language and vice versa. This includes business discussions and meetings at the workplace, at school events, at training and education venues, police arrests and interrogations, in courts of law, Insurance and doctor appointments as well as at cultural or political events.
Where can you find sign language interpreters?
One good place to start is the Registry of Interpreters for the Deaf. Under the Americans with Disabilities Act (ADA), deaf people may be entitled to free sign language interpreters. Here is some more information about these rights during COVID-19 pandemic.
There are also freelance sign language interpreters who offer their services as an individual or together with colleagues (interpreting agency). And professional service providers in the field of translation and interpreting also offer you competent sign language interpreters.
Who pays for hospital bed sign language interpreters ?
In the case of doctor's appointments, the health insurance company may pay the sign language interpreter at your side. The best thing to do is to hire one of the interpreters closest to you. At the end of the appointment, the doctor signs the confirmation for the use of the interpreter and the doctor bills his services independently with the health insurance company.