Have you ever tried to build a semantic core for a site at least once in your lifetime? Or create a competent content strategy? If the answer is yes, then you probably know how difficult it is, and how much information you need to process and take into account to get the right result. This is a difficult and time-consuming task for a human, but it is a mere trifle for artificial intelligence (AI).
Artificial intelligence and machine learning can not only skyrocket your search engine promotion strategy but also change your entire business strategy as a whole. Let's find out how it works.
You are probably already using AI even if you don't know it
Most of the actions that we perform either online or using our smartphones have already been reinforced with artificial intelligence. When we ask Siri to create a new alarm clock or make a Facetime call, AI algorithms begin to work. The same thing happens when we write a search query in the search bar. Google ranking and content delivery algorithms are AI algorithms that work using massive amounts of data. The moment we click the Search button, the smart program starts looking for the best solution for us, taking into account the search query itself, our location, as well as all the personal data that we shared with Google for a long time.
Every time we hear that the content ranking algorithms have changed, this means that Google's artificial intelligence began to behave a little differently. Of course, we can play games with machines for a long time, trying different strategies and evaluating the results.
But why not use Google's own techniques in our efforts? Enhanced AI software can cause Google to show your pages more often and to the users whom they really suit. All you need to do is start using these innovations.
Coming up with Killer Headlines
It is a well known fact that the headline of a post makes or breaks the post itself. People won't click through to a post if the headline is not catchy. Luckily there are a number of good AI-based applications that can help you evaluate the quality of your headlines and applications that can suggest ideas for your headlines  based on your keywords. Here are some of these tools:
* IsItWP Headline Analyzer. This is a good tool that grades your headlines and offers suggestions for improvement
* Sharethrough headline tool. Another tool that grades your healines.
* SEOProcessor Blog Title Generator. This tool generates headline suggestions based on your keywords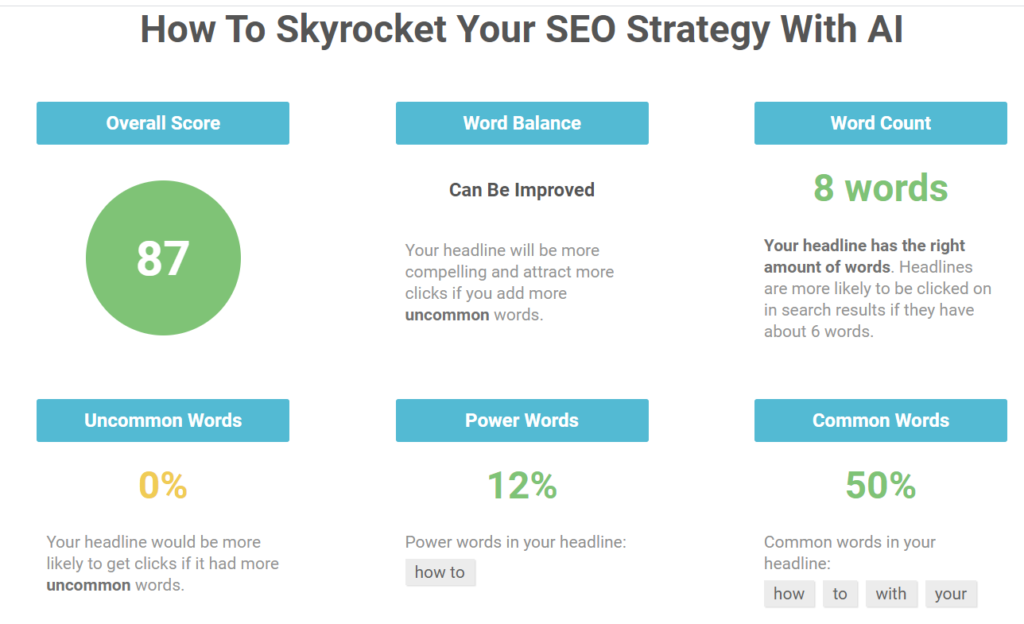 Research Content Ideas
You are most likely familiar with the Hubspot Blog Ideas Generator. This is artificial intelligence in its purest form. It is quite limited in its free version, but there are more advanced tools on the market. They also allow you to get a list of ideas for articles based on several key queries, but the key difference is that these systems are able to analyze a much larger stream of data, including in real-time.
That is, by writing down a few key phrases about your topic, you can get valuable insights about what's trending now, what users are discussing on social networks, and even get predictions about what will be trending in the near future, and start creating your content based on this data. One such tool which is worthy of mention is Buzzsumo.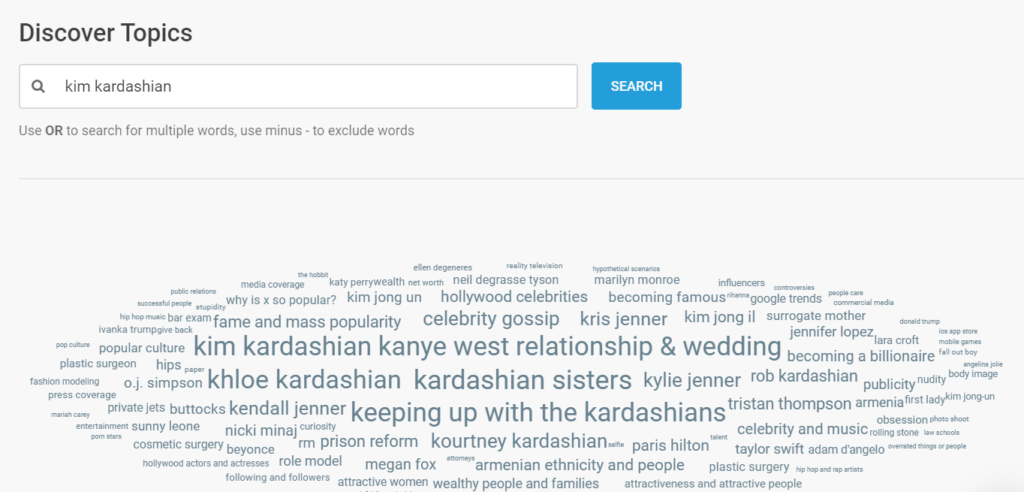 Suggest Better Keywords
Even with the most advanced tools, searching for keywords and compiling a semantic core for a site is always a headache. If you do not believe it, just ask your SEO specialist. The most important point is not only to collect the right key queries but also to select the queries that your users use. Effective SEO always means a perfect match.
Artificial intelligence algorithms help you find the best matches, taking into account its knowledge of the market, your business, your users, your competitors, and Google algorithms, of course.  SEMrush is one such leading platform and is highly recommended. Their keyword magic tool is worthy of mentioning as well.
Empower Voice Search
58% of consumers have used voice search to find local business information in the last 12 months (BrightLocal)
Voice search has become huge, especially among smartphone users. Since voice search is somewhat different than keyboard search, it requires a different approach to SEO. Firstly, voice search is much richer and longer-tailed than keyboard search. So if someone would type a search for Document Translation Services, in voice search the query would be more like: where can I get the best document translation service or where can I find document translation services near me near me? That is why SEO experts recommend to optimize for voice search by targeting long-tail keywords and optimizing for local search results.
Other SEO recommendations are to write FAQ pages with short questions and answers. And it definitely pays more than ever to get featured in Google with Rich Snippets. Because that is the only result that Google will audibly play back  in a voice search. See an example below.
Artificial intelligence can help you find a list of potential questions, and give you additional insights about how you get featured in Google rich snippets.
Optimize for Images Search
Visual search is another trend that will intensify in the years to come. Advanced AI systems already know how to recognize images on their own. Soon, it will become possible to buy a dress that you saw in the celebrity's profile on Instagram even if you don't know either the brand or the model. If you have a retail business, you definitely need to bet on this trend. Moreover, you need to make your images searchable, that is, create a separate strategy for visual promotion. Artificial intelligence and machine learning can help here as well.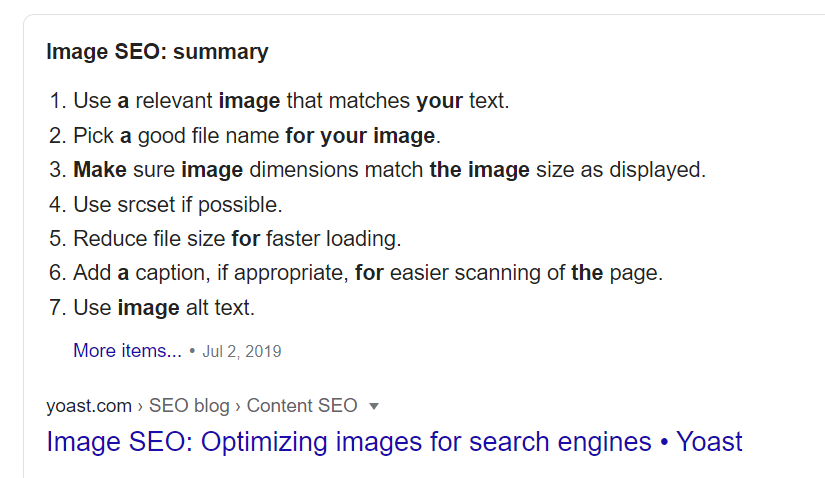 Personalize Your Content
Users are already starting to get used to personalized content driven by AI. The simplest example is the news feed in Google Chrome when the news is selected for you based on your interests and search queries. You can also use this approach on your site, for example, based on data about what your client is looking for on the network.
Translate Your Pages
Google Translate is another application of AI and machine learning, which, by the way, is evolving very significantly year after year. Yes, machine translation still needs to be verified by the person, but the quality is improving markedly. What does this mean for business? No, this does not mean that you can do without professional translation services. But it does mean that you can start by translating your pages by machine, and then apply for the SEO localization services to add relevant key queries in the target language. And go ahead and conquer foreign target audiences!
Suggest Content Optimization Ideas
In this case, artificial intelligence systems will work as an open-minded analyst. All you need to do is to show the system the material that you want to improve, for example, from an SEO point of view, and get new insights about which keywords you can add or what additional sub-questions to discuss in your article.
At this point, most likely you have a logical question – can AI systems create content from scratch? Well, it is expected that by 2026, the program will be able to write essays for high school and get the highest grades for it. But at the current time, these algorithms are too fresh to rely on them completely.
So, is AI the Future of SEO?
Yes, artificial intelligence is the future of SEO. And not just SEO. This is the future of business, and most likely, this is the future of our life as a whole. This is a progressive process that is already irreversible. Statistics show that more and more companies plan to invest in artificial intelligence technologies for different purposes – from introducing a smarter chatbot on the site to optimizing the production process.
Moreover, artificial intelligence for marketing and business is becoming inseparable from other technologies – mobile communications, virtual and augmented reality. The future of the business will be definitely determined by technology, and it is better to start gradually introducing them today.
Conclusion – Are we there yet?
The algorithms of artificial intelligence and machine learning are very powerful and promising, but still need human control and guidance. For the moment these are assistants, but not substitutes, for technical and creative specialists. Use innovative opportunities for data collection, lightning-fast, and advanced analytics, but never downplay the human contribution to business development.
About the Author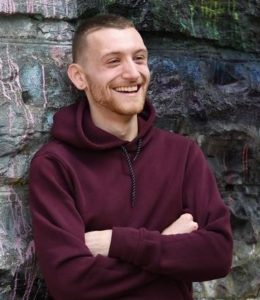 Frank Hamilton has been working as an editor at review service Online Writers Rating and an author at Best Writers Online. He is a professional writing expert in such topics as blogging, digital marketing and self-education. He also loves traveling and speaks Spanish, French, German and English.