GTS is Offering a 15% Discount on Translation Services Related with COVID-19 Clinical Studies. Please use Coupon Code COVID19.
The COVID-19 pandemic has already taken the lives of over 320,000 people out of nearly 5 million confirmed cases of the deadly virus. So it should come as no surprise that the entire pharmaceutical and healthcare industry is desperately trying to develop a cure, like a vaccine, or at least a drug that will inhibit some of the more deadly symptoms of the virus. The National Institute of Health (NIH) website Clinical Trials website lists over 1,600 clinical studies which are being conducted at this time.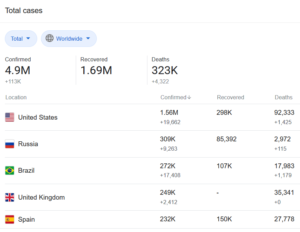 Will a vaccine be found soon? Everyone hopes so and many politicians and visionaries worldwide (like Bill Gates) are predicting as much. But nobody really knows if and more importantly when such a cure will be found. Here is a list of the most hopeful COVID-19 therapies being developed at this time.

I am proud to say that our company, GTS Translation Services, has been assisting many companies in their efforts to find a cure for COVID-19. We are doing this by translating clinical trial documents and translation of informed consent forms into various languages. Here are some of the projects that we have recently done:
* Rutgers University: Fecal studies on COVID-19 patients
* BioMedomics: Instructions for Use (IFUs) for COVID-19 IgM/IgG Rapid Test Kits
* Duke University: Intensive Care Unit (ICU) Biospecimen and Data Repository research study informed consent form.
Proven Track Record in Translation for Clinical Research Studies
GTS is one of the leading providers of certified medical translation services for clinical trials and clinical research. Customers include leading pharmaceutical companies, CROs, hospitals and University medical research centers. This includes NYU Langone, UCLA Geffen, Johns Hopkins, University of Connecticut, OSF Saint Francis Medical Center, Dana Farber Cancer Institute and many others. We have translated hundreds of informed consent forms, clinical protocols and clinical study agreements. Our quality process is compliant with the ISO 17100:2015 standard. When required by your IRB, we also provide medical back translation and validation.
In the USA, many clinical study documents are translated into Spanish, due to the large Spanish-speaking population in the US. Clinical study documents, especially informed consent, must be available to the participants in their own language. Other languages that are common in the US are Vietnamese and Chinese. GTS translates clinical trial documents in over 50 languages including Arabic, Hebrew, Russian, all Asian languages and all Scandinavian languages.
How to redeem your 15% discount
To help the efforts to find a cure for coronavirus, GTS is extending a 15% discount on all translation services related with COVID-19 clinical trials. To redeem the discount:
1. Get an 
online price quote for translation services
 on the GTS website.
2. Once the quote is displayed, click 
Order Now
.
3. In the GTS Payment window, insert 
coupon
code COVID19 into the 
Coupon
 Code field and click the 
Coupon

Code
button. Confirm that the 15% discount is applied and that the discount price is displayed (as shown below).
4. Complete the order.