by David Grunwald
After spending about two weeks on the waitlist, I received yesterday an email from Microsoft saying You're in! Welcome to the new Bing! Hurray! Naturally I started to tinker with it and wanted to share my first impressions.
It only works in Microsoft Edge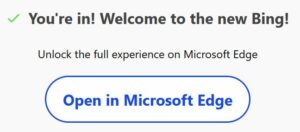 If you open up the new Bing in a browser that is not Bing-like Chrome or Firefox-you can't use Bing's Chat mode (i.e. the new Bing). You can try one of Bing's pre-canned questions like how to plan a fishing trip or build a workout program, but I did not see where I can enter a search or AI chat query.

It is pretty clear why Microsoft forces you to use its own browser, Edge. They are figuring that people will enjoy using the new Bing so much that they will make this their default browser. And by doing that, gain search engine market share at the expense of Google.
Is the new Bing the same as I'm Feeling Lucky?

Most of us are familiar with Google's I'm Feeling Lucky feature. It gives you the number 1 result of the SERP. No links or meta description. It does straight to the website it has selected. I personally never use it because I am interested in seeing a range of results.
When you type in a question in the new Bing, it supposedly collects information from the net (like any search engine) and displays the result like this.
When I asked the new Bing where to get an ipad air, it directed me to Best Buy and Amazon which it says has the best prices.
How do I know that the information is unbiased?
I personally like the current state of search on Google. I like seeing a myriad of results and I like being able to dip into the ones I like. I don't want to be told where to buy-I want to make that decision on my own. And besides that, how do I know that Best Buy and Amazon are not paying Bing to favor them in the chatbox results and put them in front of more worthy options?
Where is the monetization?
Unlike traditional search engines, I did not see any ads in the new Bing. No ads is great for the consumer but for the content owner? Not so much. It will be interesting to watch how Microsoft monetizes the new Bing.
Does this really change how people search?
People who have been following the ChatGPT story since its release are reading industry analysts and mavens say that this is a game-changer in the world of search. Well, is it? I don't see it in the new Bing. I asked the new Bing a question: Where can I get German translation services online?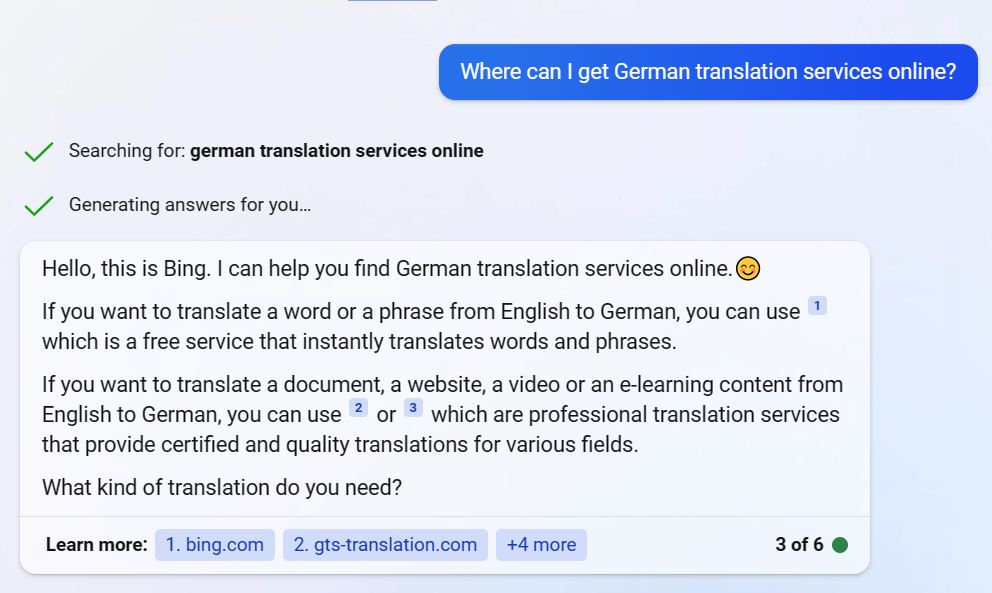 As I mentioned in a previous post about ChapGPT, Google and the other search engines use NLP (Natural Language Processing) technology to parse user search queries in order to return appropriate search results. The new Bing reiterates this and displays the parsed search query in bold type: German Translation Services Online. So not matter what question you ask it, the new Bing will parse the query into a basic search term which you would other type into Google.
I was happy to see that GTS is prominently positioned in the chatbox's response. I know that we did nothing special to get there, so I am assuming that the same rules that govern Bing's search results apply to the new Bing as well.
The New Bing can translate texts
You can enter a request to translate texts into another language. The new Bing translates the texts using, no surprise, Bing Translation. But it also gives you the option to select Google Translate and other MTs.

Google search does not have currently have the ability to translate texts from within the search box like the new Bing does. But accessing Google Translate is a cinch and you can enter your texts for translation quickly and easily.
The New Bing does not check grammar in languages that are not English
The new Bing can grammar and spell-check texts in English, but not in other languages.

The New Bing is not entirely up to date
When I asked the new Bing if it can post-edit MT, it responded as follows:
I'm sorry but I cannot post edit machine translation output. I can only translate text that you type or paste in the chat box. If you want to post edit machine translation output, you can use some online tools that can do that for you. For example, you can try Microsoft Translator Hub or Google Translate Toolkit.
Nice answer, just that Google Translate Toolkit was shut down in 2019.
I could not find the microphone in Edge
I wanted to use the Chat feature in new Bing to ask questions using my voice. I asked new Bing if I can d that and this what it said.

My only problem is that I can't find the microphone on the Edge browser that I have on my PC (version 110.0.1587.57). I am pretty sure that this is a recent version.
Summing Up
I will not ditch Chrome nor Google and I am not sure I will even use new Bing on Edge. I can't see how this new product will change my life in the way that Google has changed the life of nearly every person on this planet. But, heck. That's just me.