People in different countries use different keywords when doing an online search. That's why companies should perform keyword research by country and by language. By optimizing your website for the same terms that your customers use in each country, brands are much more likely to have high search engines rankings.
Another fact to consider: just because your company ranks for certain keywords in one country does not mean that it ranks the same in another. For example, in Germany the keyword translation service online has three times more search volume than the keyword online translation services. But in the USA, the keyword online translation services has nearly double the search volume than translation services online.
In fact, search engine rankings can vary from city to city. Check your ranking in each location and optimize your web pages to improve ranking in each location. There are a number of ways to check ranking in each country. One such tool that you may find useful is Hide My IP, which allows you to change your IP and check search engines as if you are in another country or city.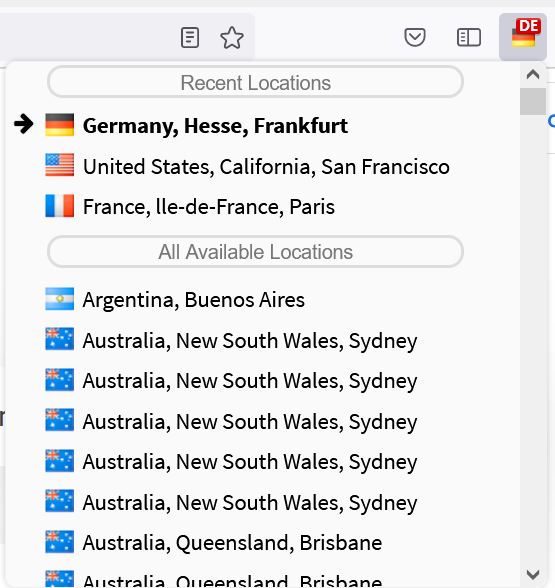 Identify keywords for each target market
You don't need to find relevant keywords for every country in the world. But carry out this research for the countries in which you wish to establish yourself. This way, you maximize your chances of having a perfectly optimized multilingual website.
What's more, this will allow you to address all your target audiences with relevance. And for good reason: Swedish consumers do not have the same concerns as Australian customers. As these cultures are very different, the needs of their inhabitants also differ.
This is why it is beneficial to identify relevant keywords by country. This will allow you to:
Tailor localized content for your website
Determine marketing focuses in each country
Identify the needs, desires and expectations of your targets, regardless of their location in the world.
This information will therefore allow you to internationalize your e-commerce site.
Tools to find relevant keywords by country
1. Ahrefs
Ahrefs is an exceptional tool for finding relevant keywords by country. This includes the following information.
Breakdown of front-page competitors (by country);
Search volume of keywords;
Keyword suggestions
Translated keywords based on your entries
This will help you gauge the real traffic potential of each keyword by country. Moreover, you will also be able to know if the keyword is easy to access thanks to the difficulty score.
Ahrefs Keyword Explorer analyzes nine search engines in addition to Google. These are Yahoo, Bing, Yandex, Baidu, Naver, Daum and Seznam. So you can be sure to get reliable results on searches made in Japan, Norway or any other country in the world.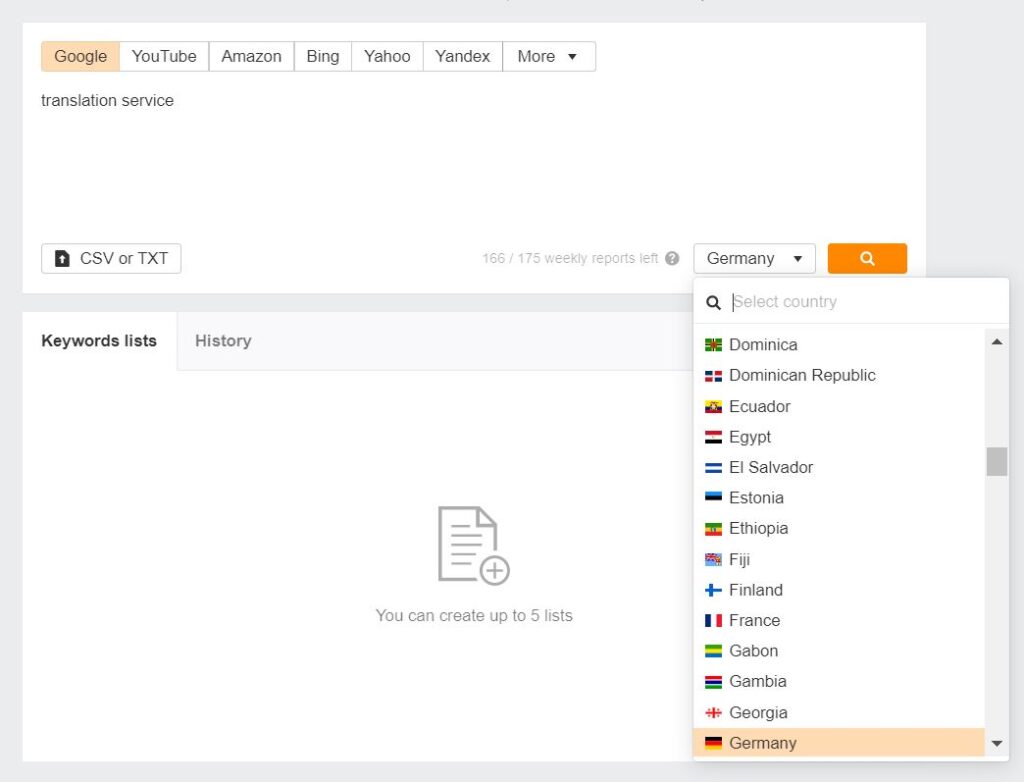 In Ahrefs, you can use the Related Terms tool to find equivalent translated keywords for each country. This allows you to find out how people are searching for information in each language.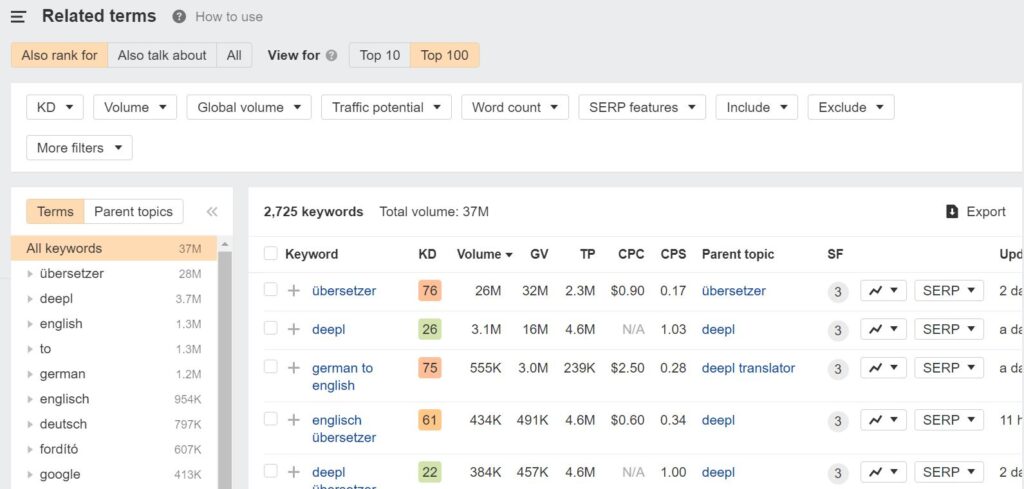 2. Rank tracker
Rank Tracker has one of the largest databases of world-class keywords. What's more, this site integrates 23 keyword research tools, including:
Google Keyword Planner;
Search Console;
Google Analytics;
International keyword research tools like Yandex and Wordstat.
Rank tracker is great for finding relevant keywords by country. This option is very handy for finding high volume search terms. This tool collects all the keywords for which you and your competitors are ranking in the search results of the following countries:
United States
UK
Netherlands
Spain
France
Germany
Australia
Russia
Canada
If you are looking for a tool available in more countries, we advise you to continue reading to discover SEMrush and Ubersuggest.
3. Moz
As a Rank tracker, Moz suggests keywords by country to help you build an international SEO strategy. Very popular, this keyword research tool is not only focused on this feature. Indeed, Moz allows you to analyze backlinks , to do site audits or to know the latest SEO trends. This way, you can consolidate your SEO efforts in one place.
Good news: you can test this SaaS software for free for 30 days before launching.
4. SEMrush
SEMrush is a versatile tool that references over 9.4 billion keywords. And even if it is not the most affordable (its price starts at $119.95 per month), many SEO experts recommend it to their clients.
Its greatest asset is that this tool allows you to find relevant keywords in more than 110 different countries. In addition, it differentiates between requests made on mobiles and PCs in many countries such as Germany, France, Italy or Mexico, among others…
When you do a keyword research, you will get its monthly search volume, SEO difficulty, suggestions of other keywords and much more.
5. Ubersuggest
As you can see above, Ubersuggest also allows you to choose the location and language before starting a keyword search. Designed by SEO expert Neil Patel , it works on the same principle as the previous tools. For each term, this will give you access to:
To the search volume;
SEO difficulty (score out of 100);
The difficulty of the paid keyword;
And cost per click (CPC).
Good to know: Ubersuggest is one of the most financially affordable tools. It has a freemium formula and a lifetime "personal" package at a price of €290.
6. Google Keyword Planner
Finally, let's zoom in on Google 's keyword planning tool: Google Keyword Planner. Thanks to this free software, you will get the information at the source (information which will therefore be extremely precise and up-to-date).
The most useful features of Google Keyword Planner are:
Analyze a site's data over the last 12 months;
Save keywords and add them to Google Ads campaigns with one click;
Add search parameters to filter keywords that precisely match your goals.
Find relevant keywords by country: what to remember.
What's Next?
Once you have done your keyword research and checked your ranking in each location, there are a number of things you can do to boost your rankings:
Based on your keyword research, write new content that targets the specific country or city.
Build links to your website from relevant websites and online directories. For example, if you are targeting customers in Germany, get links from German blogs and directories.
Translate/localize content in other languages and craft the content around the keywords in each country.