by Maliha Tasneem
When you own an eCommerce business, you need to do everything in your power to reach as many people as possible. And to reach a large audience, you must make your website accessible to everyone. People tend to spend time and buy products from websites that are in their own languages. However, this significant detail is often missed by business owners.
Offering multi-language options can bring so many differences to your business. So, let's list some of the benefits of multilingual eCommerce. And after that, we will also take you through some simple steps that can make your eCommerce business a multilingual one. But first, let's get a clearer idea about what a multilingual website exactly is.
What is a Multilingual Website?
A multilingual website is basically one that offers different language options for people from different countries. Sometimes people can confuse it with an international website. An international website is actually one that is accessible to anyone around the world, but the standard language for these websites is English.
However, when you have a multilingual website, you basically offer options to people using different languages to choose their preferred language throughout their journey on your website.
Benefits of Multilingual eCommerce
Now that you understand what a multilingual eCommerce website is, we will go deeper and find out the extraordinary perks that it comes with.
Improves Customer Experience
The popularity and success of an eCommerce business depend highly on customer experiences. When you offer multi-language options to your customers, you are already going the extra mile to make them happy. The customers do not overlook this and appreciate your efforts to give them the utmost comfort in browsing through your eCommerce website.
Running an eCommerce business in 2022 is not an easy task. There are millions of stores, and you need to stand out among those just to catch the eye of the right buyers. If you allow shoppers to be addressed in their native languages, they will simply love the gesture, feeling homely while scrolling your website.
Moreover, not all potential buyers are supposed to understand English; thousands do not. When these buyers find an eCommerce website that speaks their native language, they stick to it. In this way, you can create a loyal customer base.
Helps Reach a Wider Range of Customers
Thanks to modern technology, your eCommerce business can reach customers from all around the world today. But not every one of them speaks English. English is an international language and a standard language for managing businesses all over the world. But there are still hundreds of nationalities who do not know even a word of English.
So, when you offer people from those countries the opportunity to view your website in a language they understand, you automatically expand your reach to customers. In this way, websites in different languages help business owners to widen their net and reach more customers than they otherwise could.
Enhances the Number of Sales
When you have reached such a huge number of buyers, and on top of that, your customers are fairly satisfied with the features they are enjoying, it needs no telling that you will see an increase in your sales too. According to research carried out by Harvard Business Review and Statista, at least 65% of consumers have disclosed that it is more likely that they will buy products from a website that is in their native language. Not only that, 56.2% of the consumers have even said that getting all the details of the business in their native tongue is actually more important to them than the price of the products.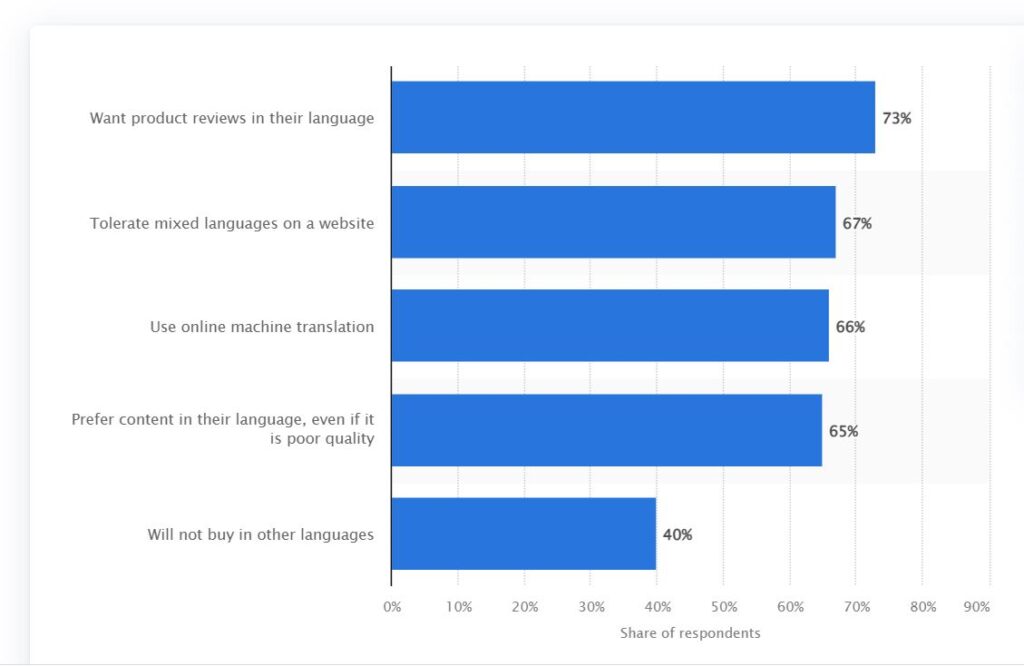 So, you can understand how multi-language eCommerce platforms can be a massive support for your venture in terms of increasing sales.
Increases Competitive Advantage
The competition is very high in the eCommerce world. Because let's face it, there are literally thousands and thousands of online stores that operate on an international level.
You need to sprint ahead in the game by standing out among those in every way possible. And creating a multilingual eCommerce website will help you gain a competitive advantage. This will make your business different from many others, as you will add a simple but really effective feature to your store.
The feature of adding multiple languages to your online business gives you the leverage of attracting people who would otherwise refrain from buying products from international stores because they did not understand the content or the information.
These people will know about your brand and would also refer your store to other shoppers like them as well. In this way, you will not only be able to reach more customers, but you will also be well ahead in the line while competing with other eCommerce businesses.
Low-cost Marketing Strategy
The promotion of products and the business itself is an inseparable part of an eCommerce store. However, it takes a lot of brainstorming and investment for that. Creating a multilingual eCommerce site can actually be a very affordable marketing strategy that any eCommerce business can use.
Although very frequently overlooked, the strategy of offering multiple languages for your customers can do wonders for your business! As you already know, it is a great advantage for the users if they can obtain information related to your business and products in their native languages. And honestly, this is not a feature that the majority of businesses offer.
So, when people do find a website like this, they tend to share their experiences with their friends and family members. Word-of-mouth advertising is an immensely effective promotional method that requires no money at all!
The very gesture of thinking about your customers and putting such effort into making their visit comfortable creates an overall good impression of your brand among people. This way, your business will get appreciated by buyers who do not need multi-language options.
Improves Search Engine Optimization
Search Engine Optimization is something that you are surely considering for your eCommerce business already. You can never reach your desired number of potential customers if your website content is not SEO-friendly. The benefits of multilingual eCommerce are also seen in this aspect.
When you expand your business internationally, you have to think on a global level as well. You have to find out what the people from a specific country might think and what they are searching for on the search engines. And to do this, you must use their native languages.
A business website becomes much more polished and effective if it translates into different languages in different countries. It will help your website rank higher on searches, both locally and internationally. And the outcomes will be excellent for your business in terms of an increase in growth as well as conversion.
Instills Faith Among the Buyers
When people get the ease of browsing through a website in their own language, it automatically instills a sense of faith within them about the business. This is really vital for the success of an eCommerce store.
Because trust is something that does not come easily for people when they intend to buy something from an online shop. And when it is a foreign store, they get more confused about whether or not to make the purchase. But when they get all the information in their native language, it helps them in trusting you.
And your customers should be able to trust you. With this trust, a good and strong relationship grows between the business and the customers, and that brings positive long-term outcomes for the company.
How to Create a Multilingual eCommerce site
I am sure by now you have a clear idea about why you should make your eCommerce website multilingual. But you are probably wondering how to do that.
WordPress is currently the most in-demand Content Management System, and WooCommerce is an extremely popular open-source eCommerce platform on WordPress. This portion of the blog will take you through some simple steps to make your eCommerce website a multilingual one on WordPress.
1.    Install WordPress
First thing first, you will have to buy a domain name and web hosting. Once you are done with that, the next thing you need to do is install WordPress. The installation of WordPress is quite easy. Just a few clicks and you are good to go!
2.    Install WooCommerce and create a store
As you are choosing WooCommerce as your platform, you must install and activate the plugin WooCommerce as well. This is your next step. After you are done installing and activating WooCommerce, you will have to open up a store and select a theme for your business.
3.    Install a suitable translator plugin
Now that you have tailored your WooCommerce website by putting all the information and choosing a theme, the next step that you need to take is installing a suitable translator plugin. There are several translator plugins available on WordPress that can come to your rescue in this, like WPML, Polylang, Weglot, etc.
You can choose any of these and start translating your website. However, you can take help from experts like GTS as well, and they will take care of all the hassles of translating your eCommerce website for you.
4.    Translate your eCommerce store
Now, there is a common misconception about creating a multilingual website. That is, if you are using a plugin, then you do not have to do anything manually; the plugins will do all the work. Well, although the plugins will do all the major work, you still need to have a final check regarding any irrelevancy or mistakes.
There is another thing that you need to take care of, and that is your product feed. Your product feed carries all the basic information and details of your products, and these are the ones that will be sent to different marketing channels for your products to be showcased. Therefore, it is a must that you use a multi-language product feed.
5.     Optimize your translated store
Once you are done translating your eCommerce website, the next thing you have to do is optimize it. There are certain factors that you can check in this regard–
See if the URLs have been translated
Take a look at the typography and check if its readable in a bit complex languages
See if the meta descriptions of your products or content have been translated
Opt for hreflang tags
6.    Modify currency conversion options
If you are allowing your customers to see all your information and content in a language they understand, then you should consider allowing them to see a price that they understand as well.
This will make the customer experience even better as they can make a more informed decision about whether or not to make the purchase. And they will not have to take the trouble of taking a calculator and calculating what the prices of each product will be in their native currencies.
You can take the help of any currency conversion plugin for this, which will let your customers see the conversion in real-time, with just a click.
Final Words
We have come to the end of the blog, and by now, you must have understood that the benefits of multilingual eCommerce websites are endless. From reaching a wide range of buyers to offering them the best experience, you can do it all if you choose to translate your store.
With the right technology and a little bit of effort, you can easily make your eCommerce website multilingual, and before long, you will start seeing the results too!
About the Author
Maliha Tasneem is a professional content writer who has been writing creative and technical content for four years. Currently, she is working at WebAppick – a WordPress Plugin development company, as a content writer.