Should you optimize for typos?
As someone who has been working in the language industry for many years, one of the most common typos I make is typing 'Soanish" instead of Spanish. This  is a common typo, as the 'O' and 'P' keys are located next to each other in QWERTY keyboards, both in mobile devices and on PCs. So on our translation company website, should we optimize for this keyword? It may be a good idea-according to the SEMrush keyword magic tool, over 1.2 million people search for the keyword phrase 'Soanish translation' in a 12 month period. That's a lot of traffic! Another common typo, 'Spanish to English trabslate' gets searched for 1.5 million times a year! That's even more traffic.
Finding the high traffic/high volume typo keywords
You can use a keyword research software tool to check the volume of the searches relevant to you. You will find some very high volume keywords that are misspellings.
Here are some other high traffic keywords that people use in searches related with translation services. All of them are typos.
* Englisg to Spanish Translate: 5 million searches per year
* Translate Engliah to Spanish: 5 million searches per year
* Translate Engish to Spanish: : 3.35 million searches per year
* Engilsh Spanish translation: 1.2 million searches per year
The SEO experts on the Internet seem to be unanimously agreed that optimizing for incorrectly spelled words is not a good idea. First of all, the major search engines will automatically correct the spelling and return the same SERPs as for the correct spelling.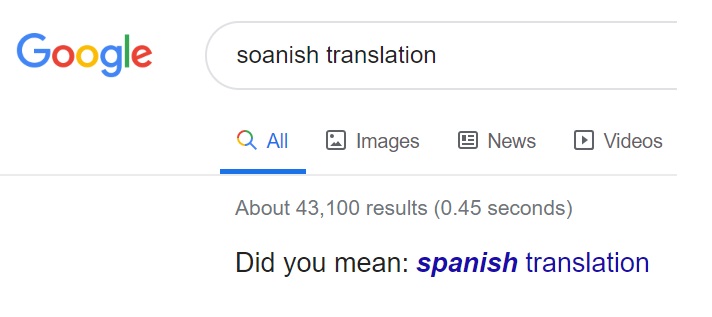 So if you mistakenly entered a search for 'Soanish translation,' the results will be mostly the same as for 'Spanish translation.' Secondly, optimizing for incorrectly spelled keywords can damage your website, as the search engines may tag your content as being of poor quality.
But Google is not the only search engine!
It appears to be conclusive that optimizing for incorrect spelled keywords will get you nowhere with Google. But there are a lot of search engines that are not called Google. True, Google dominates search with over 70% share of the market. But as an SEO, you can't overlook the other engines.  For example, at GTS we get quite a bit of traffic from DuckDuckGo. When I search for 'Spanish to English translate' on DuckDuckGo, the free translation tool by Cambridge appears in the first SERP. But when I search for 'Spanish to English trabslate' Cambridge is not on the first page. Is this just a coincidence or does the search return different results based on user input, even when it is an incorrect spelling?
Using typos in anchor text
So should we build incoming links to our site using the anchor text "Soanish translation?' Some SEOs say that it works to drive traffic to your site. But it may be challenging to find reputable sites that want to put on their website anchor text with misspelled words.
Using typos in image alt tags
Google and other search engines use the image alt tags to index images. Using a high traffic misspelled keyword in your alt tags will not look visibly bad to the user, but may be enough to tell the search engine to consider your website in the relevant SERP. This may be a good option and worth trying.
Look here to see how many images are tagged by Google with the incorrect spelling of 'Soanish.'
Register domain names with misspelled words
This seems to be a non-starter so I would not waste time or money on it.
Keywords with syntax errors
In doing some research for this post, we found some high volume long-tail keywords which are not typos but are not correct either. I refer to keywords with syntax errors such as:
* Translate English to.Spanish: : 6.12 million searches per year
* Translate from English to.Spanish: 2.24 million searches per year
* Translate English.to Spanish: 1 million searches per year
* Translate Chinese to.English: 673.000 searches per year
Here the search engines do not correct the spelling and seem to automatically disregard the spurious period. Upon close inspection, the search results seem to be slightly different for each search string.
Optimizing for these kinds of search keyword strings may be easier as it may be possible to work it into the content without it sounding funny or incorrect.
Summing Up
Your website  content should be high quality and with no spelling or grammar errors. Writing poor content for search engine ranking is never a good idea and should be avoided.
However, when doing keyword research look for high volume misspelled strings. Once you have identified them, try using them in image alt tags or as anchor text in inbound links. It may get you more traffic.