Anyone looking for a translation service provider knows that there are a lot of factors that come into play. It's not enough just to be proficient in multiple languages. Good translators should have strong writing skills, industry knowledge where applicable, and cultural sensitivity. After all, you don't want an amateur translator to compromise a critical document over a mistranslation.
For nearly 20 years, our seasoned professionals have provided translation services for some of the biggest companies in the world. It's precisely our dedication to quality work and timeliness that make us so trustworthy. And now we've got the award to back it up.
Recently, Clutch has recognized GTS Translation as a Global Leader in their annual report! This survey lists the top 15 service providers within a given industry, ours being translation.
For some context, Clutch is an independent ratings and evaluations platform that ranks B2B service providers around the world. Besides market presence and industry experience, verified client reviews factor immensely into Clutch's scoring methodology, which is why we're incredibly proud of our overall score of 4.5 out of 5!
One of our recent projects came courtesy of The Joshua Frase Foundation. They hired us to translate a 100-page document into 6 languages, which was no simple task. Based on our strong performance, they left us a glowing review.
Take a look at what they've had to say: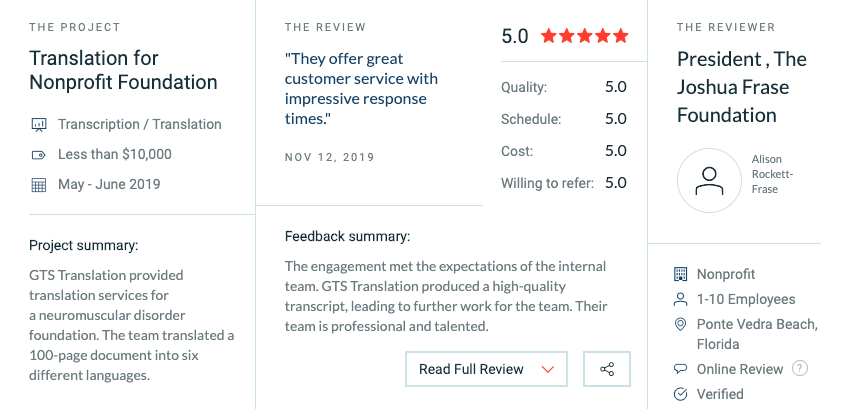 Having such a strong client satisfaction record has also made us eligible to be featured on Clutch's sister sites. We're listed as one of the top translation services on The Manifest, a business research guide. And we're looking to be featured on Visual Objects, a portfolio-based site that ranks service providers in a wide range of industries.
GTS Translation Services is consistently ranked online as one of the best translation companies. We have received this recognition not only from Clutch, but by other leading review websites as well:
* Top 30 Translation Services in 2019 on Medium.com
* Top Translation Services Companies in the United States on UpCity
* Top 10 Technical Translation Services Companies on Pickwriters
* Top 49 Translation Services on PFind
* GTS has a 4.7 out of 5 star rating on Google Places.
If you're on the market for a strong translation provider, be sure to read up on our translation process to understand how we work. We guarantee that your orders will be processed in the most trustworthy and effective way possible.