by Gloria Martinez
Business technology changes constantly, and it no longer benefits large companies only. Small and mid-size businesses can benefit from technological innovation as well. Research cited by Yale University shows that small, established businesses offer the experience that benefits innovation.
1. Use Cloud Computing
If you are not already a cloud-based business, this is the first step toward innovation that you need. Cloud-based technology allows you and your employees an avenue to share every aspect of your business under one management tool. It makes collaboration and communication much more effective.
With cloud computing, everything is online, which necessitates protecting your business and website from cyber threats. Using password-protected PDFs is a great way to protect sensitive files from a cyber attack. If you need to make changes to a PDF, a PDF editor allows you to make changes to documents and drawings without having to convert the file to another format. Simply upload the file online to make changes, then download and share.
2. Build With 3D Printing
If your business has a manufacturing component, 3D printing may eventually become a necessity. You can use it to create prototypes at a significant decrease in price. Even small, at-home businesses can use it to make products, such as toys and other gift items. You can then sell them on successful e-commerce platforms like Etsy or eBay.
3. Offer an App
Virtually every business has an app that allows customers or members easy access to everything your business has to offer. Consider hiring a developer to help you customize the app to cater to your product or services. Be sure to have a clear understanding of your business needs and conduct market research to better analyze your competitors. Then work with the developer to create the look that fits your brand.
4. Follow the Latest Marketing Trends
Marketing is now much more than showing a product. Among the latest trends is experiential marketing: you create an experience for your customers that makes your brand, not just your product, memorable. It requires knowing your target audience and creating clear objectives. Start with a logo that stands out in your industry.
5. Embrace Remote Work
Himalayas notes that in recent years, many business owners have learned to appreciate the benefits of allowing remote work. You can cut back on overhead costs and increase employee morale. Once collaborations are available through a cloud-based program, your employees can work from virtually anywhere and still have access to the company system. If you have the opportunity to contract projects with remote freelancers, you will see an uptick in revenue as well.
For those remote workers living overseas, you may need a translation service to communicate and collaborate. For fast, efficient and high-quality work, call on GTS Translation Services, which has a global reach.
6. Incorporate Automation
Artificial intelligence is taking over business technology, becoming the main component for innovation and development. The easiest way to incorporate AI into your business at little cost is to automate customer service. Chatbots are now nuanced with the ability to assess and read human emotion. While you cannot yet completely replace human interaction in customer service, you can improve the speed at which customers get answers to their questions online through your website.
7. Boost Your Communication With 5G
Given the growth of dependence that humans have on internet access, your business needs to be fast-acting and collect data in real-time to improve communication with current and potential customers. 5G connectivity allows businesses to boost their server's speed, collect marketing data at a fast rate, and monitor customer retention at unprecedented speed.
Today, innovation in business is all about speed and personalization, which is why cloud computing, app development, and automation is so important. You can connect better with your customers if you offer a custom experience with no lag time, especially if you're using 5G. Your first order of business is to know your industry, including the target consumer and the competitors.
8. Internationalize your Products, Services and Content
Another way to grow your business is to expand into new markets internationally using professional translation services. If you find this effort to be too costly, consider international markets which speak the same language. For example, US-based companies can target the UK market without spending too much on translation and localization services. If you are engaged in digital marketing, consider localizing some of your content into other languages. This may not only bring in new business, it will help your SEO efforts.
About the Author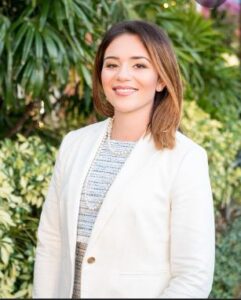 Gloria Martinez loves sharing her business expertise and hopes to inspire other women to start their own businesses and seek promotions in the workplace. She created WomenLed.org to spotlight and celebrate women's achievements.