Ever since the Omicron variant of COVID-19 took the world by storm at the end of November 2021, the demand for Antigen self-test kits has skyrocketed. Changes in government regulations have created a pent-up demand for home self-test kits.
The holiday season increased demand even more, as many people wanted to self-test before visiting family lest they transmit the virus (especially to old or infirm family members). Antigen tests are known to be much less accurate than PCR tests. But PCR tests involve considerably more effort and cost more money.
Self-testing at home has become the norm for many people in the USA and internationally. These and other factors have resulted in a shortage of self-tests, with many suppliers reporting that they are out of stock.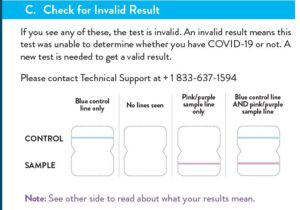 As anyone who has self-tested knows, the Antigen test must be done precisely in the prescribed sequence. If not, the test may yield invalid results. That's why it is very important to carefully read the instructions for use (IFU) and perform the test procedure exactly as written.
Where do I get the IFU?
When you buy an Antigen self-test kit, a printed IFU is provided inside the product package. If you buy the self-test kit in the USA, you will get the IFU in English. But there are millions of people in the US that don't speak English as their first language and can't read English well. This makes it more difficult for them to self test for COVID. It is important for those people to get the instructions in their own language. This has raised concerns in some parts of the world that due to the lack of translated instructions, many people are not performing the Antigen test correctly.
Luckily, many of the medical device manufacturers provide the IFU in other languages and you can find and download the IFU from the Internet.
Abbott BinaxNOW COVID-19 Antigen Self Test
This is one of the best selling kits in the USA. Abbott is a leading medical device company and is known to translate its IFUs into many languages. However, finding BinaxNOW IFUs in any language other than English is challenging. We did manage to find the Spanish language IFU for BinaxNOW on the Abbott website. The Spanish IFU covers most of the US non-English speaking population (since Spanish is leading language in the USA after English).
Abbott's European equivalent self test kit is called Panbio. Panbio is the European version of BinaxNOW so the differences between IFUS are probably small. The Panbio IFU is available online in many languages from the Abbott website.
Quidel QuickVue At-Home OTC COVID-19 Test
This is another one of the best selling kits in the USA, and is carried by Amazon and Walmart. You can search and download the QuickVue IFU in many languages from the Quidel website.
iHealth COVID-19 Anitigen Rapid Test
This kit is also carried by the leading online retailers. The iHealth IFU can be found in multiple languages here.
Intrivo On/Go COVID-19 Antigen Self-Test
This kit is ranked very highly by industry experts for its accuracy. But it is unclear how to get instructions for On/Go in other languages. Also, this kit requires use of a smartphone app and it is unclear if that is made available in other languages.
FlowFlex Covid-19 Antigen Rapid Test
FlowFlex is another nasal swab kit which is carried by the major online retailers. The Spanish language FlowFlex IFU can be downloaded from the website.
In Summary
The printed IFU shipped with a COVID Antigen self-test kit usually only comes in English. Getting instructions in other languages can be challenging. Some of them are available online. It depends on the kit that you ordered. Having the IFU in other languages will help advance self testing in minority populations that don't speak English as their first language. This will ultimately lead to a drop in infections among these groups.
GTS Translation is a leading provider for medical device IFU translation services.