Brazilian Portuguese is a widely spoken language, but what exactly is Brazilian Portuguese? A mix of Brazilian and Portuguese? It is not quite that simple. Fortunately, for those of us who cannot seem to get our head around the complexities of Brazilian Portuguese, there are plenty of brilliant Brazilian Portuguese Voiceover artists to help solve our language quandaries.
But what indeed makes Brazilian Portuguese so different and unique?
First. The distinctiveness in Brazilian Portuguese lies in its incorporation of both the Tupi and Yoruba dialect. Many place names have retained their original Tupi titles. Even native fruits seem to have reserved a right to remain Tupi. For example, the word for pineapple has remained a prickly 'abacaxi' and not conformed to become the Portuguese 'ananas'.
Second. Pronunciation, pronunciation and pronunciation. Brazilian Portuguese speech sounds a little "lighter" than standard European Portuguese. Brazilian Portuguese vowels have two variants: stressed and unstressed vowels. With stressed vowels, the stress falls on the second to last syllable.
Third. In Brazil, you don't keep track of the past… That is to say; past, present and future tenses. Brazil thinks in infinities- sentences are structured by placing an a before the infinitive of a verb. Nice and simple.
But being Brazilian is more than just speaking Brazilian Portuguese… Brazil's beauty lies in its diverse culture and customs. And one of the most fascinating aspects being that of Brazilian dance.
BEAUTIFULLY BRAZILIAN DANCES
CAPOEIRA – Dance, acrobats or martial art, or a Brazilian blend of the three! Capoeira encompasses hypnotic movements, with sweeping kicks and beautiful balance. Although some may consider Capoeira to be a form of fighting – the music and singing transports Capoeira into a genre of its own.
 SAMBA – Probably the most famous Brazilian dance. Whether you choose to dance alone or with a partner, samba is a perfect sensuous dance. If you prefer company, then ballroom samba is the dance for you, but if you aren't scared of going solo, then samba, samba, samba… all the way to the carnival. In fact, Brazil even has a Cidade do Samba or Samba City- a large creative workshop in Rio De Janeiro's downtown which hosts the best samba schools and creates the most dazzling dance costumes!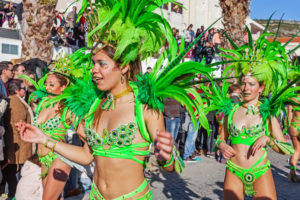 CARIMBÓ – One of the many native Brazilian dances and worth mentioning because of its' sensuality. Carimbó is a sensual dance of opposite sexes- with a woman trying to cover a man with her skirt and the man trying to attract attention by picking up a dropped handkerchief. An act all carried out to the beat of the drum, or the Carimbó in Tupi. More recently, Carimbó has evolved into the new dance form of Lambada, which literally translated, means strong slap or hit… probably as a result of the spicy lyrics and dancing! In fact by the late 1980s Lambada had spread with the French song 'Lambada' creating global interest and amassing over 5 million sales. Not maybe the best hit but some good publicity for our Brazilian 'ballet'!
 Needless to say, Brazil is a fascinating country with even more fascinating cultures and Brazilian languages. Brazil is well worth a visit and if you are lucky enough to be from Brazil – you don't need us to tell you what is great about your language and culture!
Click here for information regarding professional Portuguese translation services.