Lots of people are searching the Internet for cheap translation services. But can cheap document translation services also be good quality?
Debunking the 'cheap is not good' argument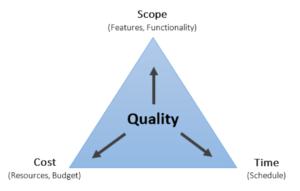 Many of you have heard of the project management triangle. In any given project, you can pick two out of the three following things: fast, good and cheap. If you want it good and you need it fast, you won't get it cheap. If you want it cheap and need it fast, it won't be good.  If you want it good and cheap, it won't be fast.
Does the project management triangle hold true for professional translation services? Well sometimes it does, but there are a lot of caveats to it and I would like to use this post to explain.
The cheapest translation is the one you will never buy

Ever since I was a child, I remember the TV commercials that told you how much money you can save by buying this and that. And even as a kid I knew that this was a load of rubbish. How can you save money when you are spending money?  If you REALLY want to save money-don't buy anything. The same holds true for translation services. Do you really need the translation? If the answer is no then skip the purchase. If you are required by law to furnish a translation (like in a court proceeding or when distributing medical or chemical products in a foreign country)-then buy it. Shop around for the best deal and wisely make your purchase.
Cheap languages vs. expensive languages
Some languages are cheaper than others. It's all about supply and demand. Spanish translation is relatively cheap because of a glut in the market. Spanish is spoken in a few dozen countries and there are many thousands of very good professional Spanish translators that need to make a living. On the other side of the cost spectrum, Danish is an expensive language. Danish is only used in Denmark and there are about 6 million people living in Denmark. Here is a table that shows expensive vs. inexpensive languages.
Translation Prices
Cheap
(around 10 cents/word at GTS)
Medium
(around 15 cents/word at GTS)
Expensive
(over 20 cents/word at GTS)
Chinese
French
Danish
Russian
German
Norwegian
Spanish
Hebrew
Maltese
Portuguese
Korean
Icelandic
Greek
Malay
Finnish
Of course, this is not to say that a Spanish translation will be of lower quality than a Danish translation. If you order either of these languages from a reputable translation company, both will be excellent quality. But if you want cheap translations, better to target your efforts in Latin-America or in China than in the Scandinavian countries. The cost of translation will be much higher in the Scandinavian countries.
Cut out the middleman and go straight to the source
One way of lowering your translation costs is going straight to the source while cutting out the middleman. If you can find a professional translator to work for you directly, you will save money. There are numerous job boards where you can find professional translators. Here too, there are expensive and cheaper options. Some of the higher end boards are Proz and Translators Cafe. At the lower end you can find boards like Fiverr and Upwork. It is recommended that you use caution when selecting translators in this manner because there are some dishonest people out there who will rip you off if given the opportunity. Here is website that lists thousands of scammers that pose as professional translators. These people will take your money and deliver worthless translations.
Use in-house staff
Before I mention this option, I must say that it is not always recommended. First of all, even if you have a native language speaker on your staff it does not mean that they can do a good job in translation. Secondly, their time costs money too and it is not always worthwhile to have this person spend time on translation. Your VP Engineering who is a native Korean and makes $275,000 a year will not be good choice for your in-house Korean translation tasks. And if you have a lower level staffer, they may not have the in-depth language skills to do a good job. Still, many companies are tempted to use this option.
Use Machine Translation (MT)
MT is not just cheap, it is free! I am talking about programs like Google Translate and Bing Translator. MT can be good for certain types of translation, when the text is controlled and uses short sentences. But as most people know, MT can yield results which are ridiculously funny and stupid. So MT should be used with great care.
Perhaps consider using MT and have the in-house staff we mentioned previously edit the result. Maybe you will come out ahead. Most language translation companies won't take on post-editing MT work. But some companies offer this as a low-cost option with the caveat that the quality won't be as good as human translation. This includes Stepes and Translated.
Start to plan well in advance
In the first paragraph of this post we mention the project management triangle in which one of the triangle axes is 'fast.' So don't leave your translation purchase to the last second and start shopping around ASAP. Give your translators or translation agency a long lead time and that may get you a cheaper price.
Compare apples to apples
When you get quotes, ask each of the bidders for the identical specifications. This includes the lead time, the service level and the translator credentials. If you send out the same spec to each bidder, and if you make sure that each bidder is capable of providing your requirement, then it will be easy to select the cheapest price out of all the bids.
Find cheap online translation
Online translation agencies like GTS tend to be the best option for cheap document translation services. Online translation companies automate some project management tasks and can therefore provide a better price point than a full-service translation company. It is also very easy to shop online and get instant price quotes for translation services.
Cheap certified translation services
When you need to cheap translate an official document, like a birth certificate or a high school diploma, the requirements are pretty simple. The body you are submitting the translation to, such as a state immigration office, will need a translation and proof that the translation is accurate and authentic. When this is the case, determine the level of certification required and choose the cheapest offer you can get. Translating these simple documents is very straightforward and any decent company or translator will deliver a good quality job.
Related Post from the GTS Blog: